Liquid Frame: airplay on Groove Salad, SomaFM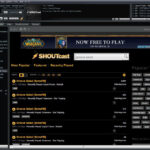 Since two weeks ago, Groove Salad started to play "Rebirth", an old song by Liquid Frame recently remastered.
http://somafm.com/charts/groovesalad/groovesalad-02Mar13.html
So a great thanx to Groove Salad staff: I'm very very proud to hear a song of mine in one of the most important webradio (for me the best :))
peace, Paolo
Groove Salad… 
A nicely chilled plate of ambient/downtempo beats and grooves.
Downtempo and chillout electronica featuring artists such as Kruder & Dorfmeister, Fila Brazila, Dhzian and Kamien, Afterlife, Zero Seven, Nightmares On Wax, Shantel, Groove Armada and artists on Pork Recordings, Waveform Records and Cafe del Mar recordings.
Problems listening with the above links? Get a compatible media player here or try these alternative stream links for internet radios and other media players.
…two-words about Groove Salad's director Rusty Hodge
In addition to being the music director for Groove Salad, I am the founder of SomaFM. I program music for several SomaFM channels, including Secret Agent, Drone Zone, Space Station Soma and Digitalis.
I've been been collecting records since the mid '70s, And I remember buying my first ambient record – Eno's Music for Airports – right around 1979. I latched onto electronic ambient music right away when the movement started taking off in the early '90s. Many of the records in my collection are now out of print and extremely hard to find, so I hope you don't get too annoyed that you can't easily find them online.
In general, I tend to like music that leans toward mellow styles, but I do like my music to have a groove (or have no beat at all).
http://somafm.com/play/groovesalad
Liquid Frame: airplay on Groove Salad, SomaFM
ultima modifica:
2013-03-13T15:49:53+00:00
da